Request a quote
ATEX ZONES
JBOX Ex-e ATEX Medium Voltage junction boxes
JBOX Ex-e Medium Voltage junction boxes 7,2/11/24/36kV are ATEX certified to be installed in hazardous area environments.
Request a quote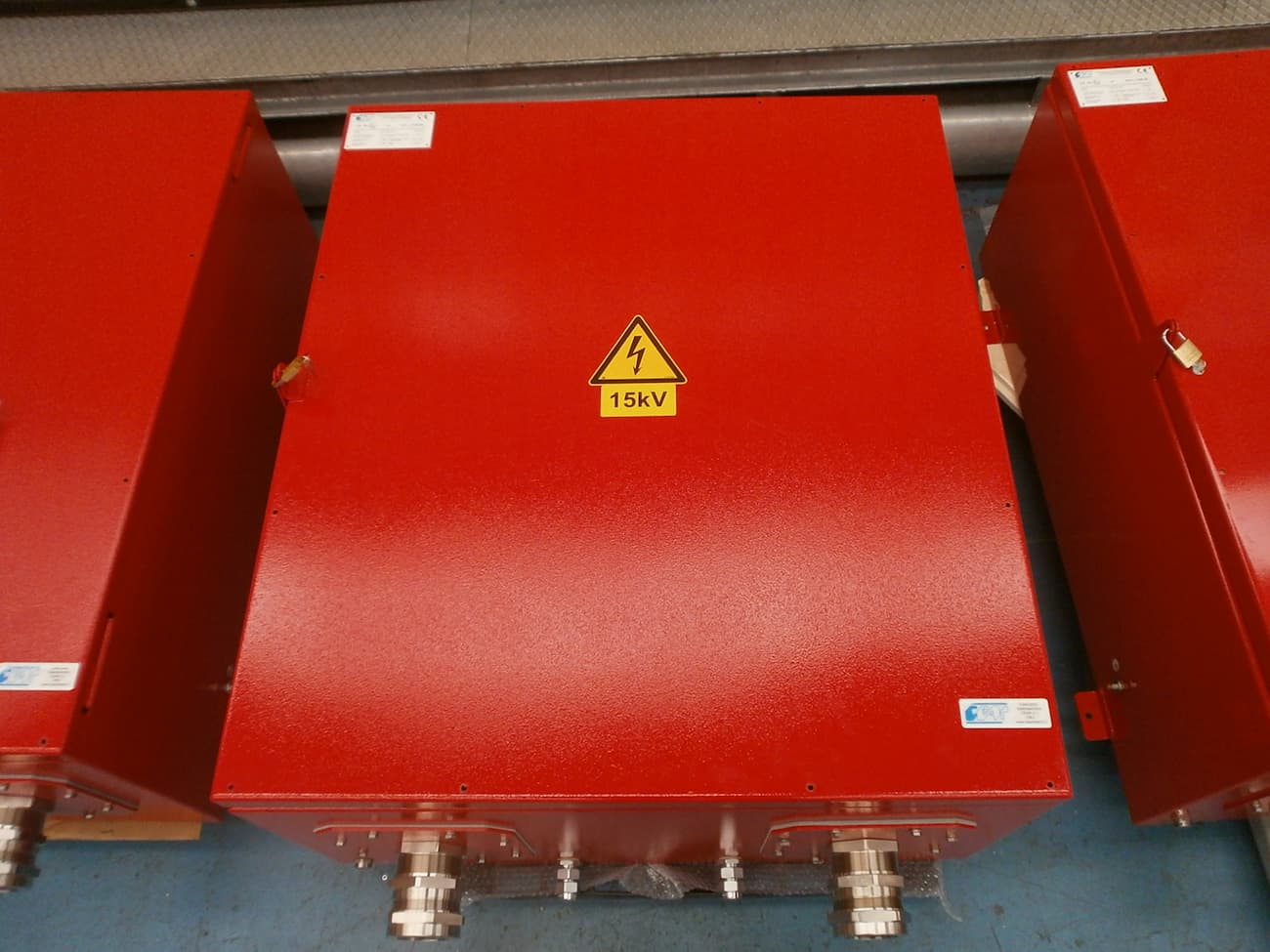 Atex MV junction boxes are designed to prevent generation of arcs, sparks or dangerous temperatures that can trigger an explosion and they are suitable for installation in a classified Group I Category M2 area (mine) and for Group II 2GD surface plants with protection level Gb.
Cear developed three different type of Junction boxes for different needs and applications.
Standards, certifications and safety
The Atex junction boxes are designed in compliance with the International IEC and European, as well as the ATEX 2014/34/EU directive, as indicated in the table below.

Constructive features of Jbox Ex-e junction boxes
The Jbox Atex junction boxes are made in their standard version in press-folded steel sheet suitably edged and reinforced with an adequate thickness and paint to withstand strong stresses and heavy duty environment. All the ferrous parts of the components, nuts and bolts and small accessories are made of stainless steel. On request, versions in stainless steel can be made.
The octagonal version has the option of providing a lateral cable entry, while the rectangular version is designed with cable entry from the bottom.
Environmental and use conditions
The installation of Atex MV junction boxes is for outdoor environmental conditions max 50 ° C and min -50 ° C and a degree of protection IP66. Other operating conditions and other degrees of protection can be evaluated on request.
Modularity and customization
The junction box is customizable according to the number of incoming and outgoing cables, the type of cable gland or MCT most suitable for the use and the type of accessibility required
Possibility of equipping the Atex junction boxes with an auxiliary box.
On request, the Atex junction box can be equipped with a heating cable.
Standards, certifications and safety

7,2kV-11kV
24kV-36kV
Marking
I M2 Ex eb I Mb
II 2G Ex eb IIC T4 Gb
II2D Ex tb IIIC T135°C Db
I M2
II 2G
II2D Ex tb IIIC T135°C Db
Reference Standard
EN 60079-0
EN 60079-7
EN 60079-30
EN 60079-31
EN 60079-0
EN 60079-30
EN 60079-31
Only for reference: EN 60079-7
Technical features of Atex medium voltage junction boxes
7,2 kV
3AC
11 kV
3AC
24 kV
3AC
36 kV
3AC
Rated voltage
Ur
7,2 kV
11 kV
24 kV
36 kV
Withstand voltage at 50 Hz (1 min)
Ub
20 kV
28/50 kV
50 kV
70 kV
Rated impulse voltage
U imp
60 kV
95 kV
125 kV
145 kV
Rated frequency
fn
50-60 Hz
50-60 Hz
50-60 Hz
50-60 Hz
Main busbar/cables rated current
Ir
630 A
630 A
630 A
630 A
There are no Case Studies to show.