Request a quote
POWER DISTRIBUTION
KDE – Kiosk for L.V. and M.V. electrical distribution
The "KDE" kiosk for electrical panels is a container inside which low or medium voltage switchboards can be housed.
Request a quote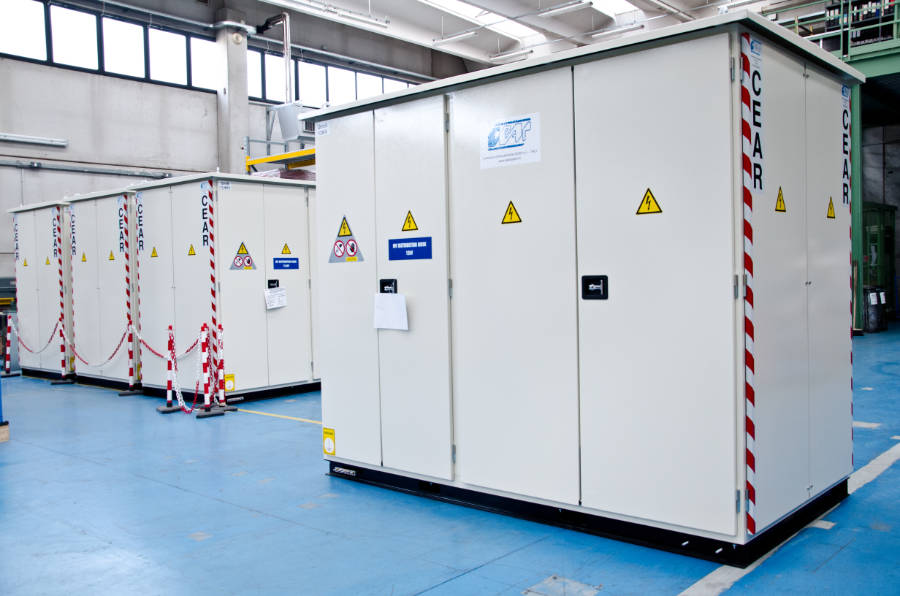 The construction site areas may require low or medium voltage electricity distribution panels, which if placed in a field or tunnel, are exposed to external agents. In order to ensure safety and unaltered operating performance, the LV and MV electrical distribution kiosk is designed for:
installation outside or in the tunnel;
immediate and ready-to-use installation;
being custom designed in relation to the customer's needs.

Datasheet
Standards, certifications and safety
Due to their mechanical and electrical characteristics, the KDE kiosks comply with the International IEC standards for low voltage and medium voltage switchboards (IEC / CEI).
Construction features of distribution kiosks
The KDE kiosks are made in their standard version in press-folded steel sheet suitably remborded and reinforced with a thickness and a paint suitable to withstand strong stresses and bad weather. All the parts in ferrous material of the components, the bolts and the small accessories are in stainless steel.
Environmental and use conditions
The installation of electrical kiosks provides for outdoor environmental conditions max 45 °C and min -5 °C and a standard degree of protection IP55. Other operating conditions and other degrees of protection can be evaluated on request.
Modularity and customization
– On request, KDE kiosks can be equipped with skid, external sockets and plugs, rain canopy.
– The dimensions of the distribution kiosk are defined according to the dimensions of the equipment that must be installed inside it and therefore depend on the specific project requirements.
There are no Case Studies to show.