Request a quote
ATEX ZONES
CTS EX P – Compact distribution and transformer substations
The CTS Ex p distribution and transformation substation is made in Ex execution with protection mode "p" suitable for installation in a classified Group I Category M2 area (mine) and for Group II 2GD surface plants with protection level Gb.
Request a quote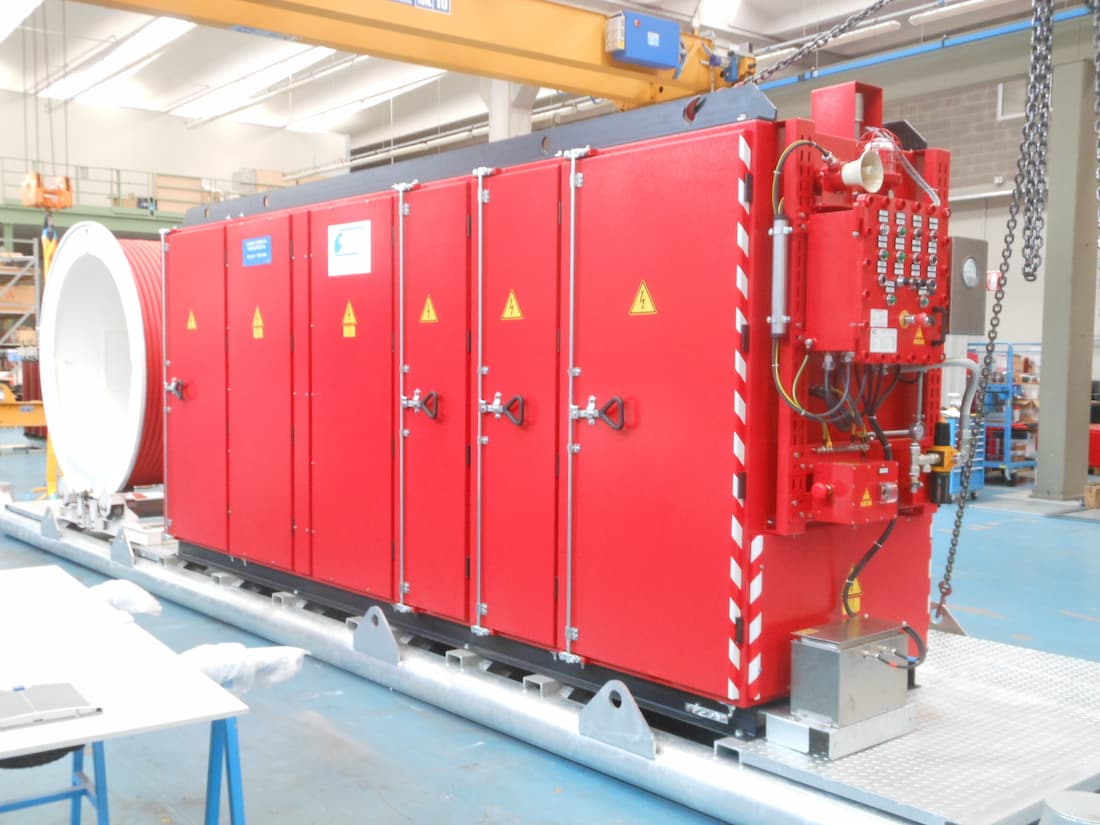 The cabin is equipped with the PCS-Ex p SIL2 pressurization control system necessary for maintaining the safety level and continuity of operation, verifying that the internal atmosphere maintains a safe environment.
The Ex p protection method consists in introducing an inert protective gas into the cabinet to keep it in overpressure with respect to the external atmosphere, and thus prevent the entry of an explosive atmosphere into the cabinet itself.

Datasheet
Standards, certifications and safety
The structure and the panels installed inside it comply with the International IEC standards for electrical panels, and European EN 60079-0, EN-60079-2, EN 60079-11, as well as with the ATEX 2014/34 / EU directive.
Constructive features of CTS Ex p compact substations
The CTS-Ex p cabin could be composed by one or more compartments based on the characteristics of use, whether for distribution or transformation and it is equipped with all accessories and safety equipment. The construction structure has been designed to be extremely robust and resistant, to operate in extreme and difficult environmental conditions.
The access doors to the equipment are hinged and the closure takes place with a sturdy handle and rocker.
Electrical features of CTS Ex p compact cabins
The compact cabin CTS Ex p can be equipped with a resin, oil or air power transformer.
The modular units of the M.T. can have air / SF6 gas insulation and can be coupled to create different configurations.
The low voltage or automation section consists of a plate on which the electrical equipment for powering the electrical utilities defined according to the customer's specification is installed and interconnected. In order to ensure operator safety and the degree of protection, in addition to the external door, an internal door is provided for access to electrical equipment.
Modularity and customization
All electrical power equipment and auxiliaries are already interconnected and tested in the factory, ready for use.
Possibility of refurbishing second-hand substations, carrying out the revision of the electrical equipment, evaluating the replacement and relative adaptation to current regulations;
Customization of dimensions, internal layout and required accessories;
CTS Ex p compact distribution and transformer cabin can be equipped with a dragging skid, shield and Atex cable reel.
Technical features of CTS Ex p compact substations
| | |
| --- | --- |
| Type of installation | for tunnel and surface |
| Pressurization Total Nominal Volume | From 10 to 35m3 |
| Minimum and maximum overpressure in service | From 0,5mbar up to 8mbar |
| Compartment number | Starting from 1 |
| Maximum ambient temperature | + 45°C |
| Minimum ambient temperature | – 20°C |
| External protection class | IP 55 |
| Altitude | <1000m s.l.m. |
| Relative humidity | 0÷90% |
| Painting | RAL 3020 (other shades on request) |
There are no Case Studies to show.