Request a quote
POWER DISTRIBUTION
QDC630 – LV distribution switchboard for construction site
"QDC630" is a certified low voltage distribution switchboard for construction sites, transportable on a trestle and equipped with electrical sockets and plugs for powering machinery.
Request a quote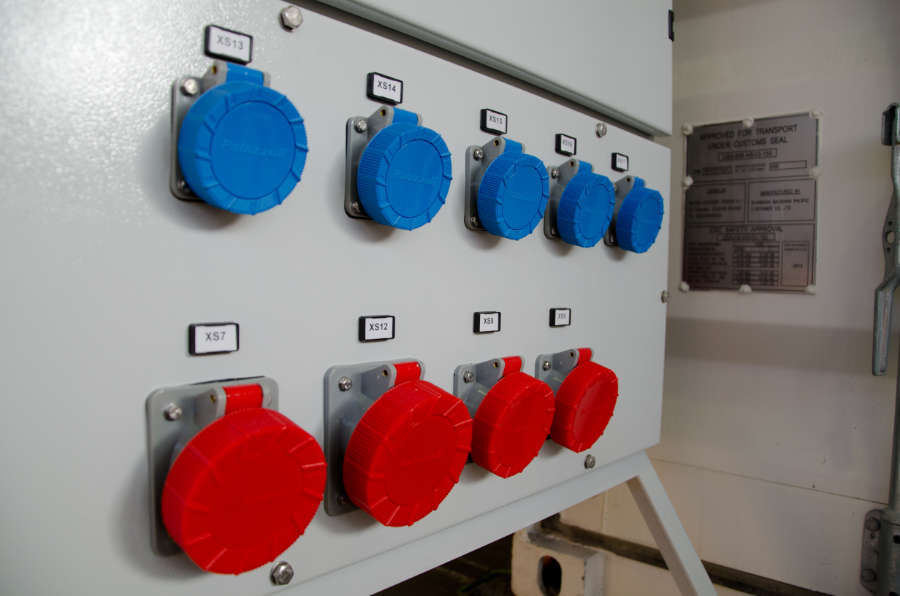 Construction site electrical panels, also commonly called ASC* panels, are linked to the evolution of construction works and, due to the type of installation, they are subject to continuous movements, shocks and vibrations, as well as being subjected to extreme corrosion by atmospheric agents.
The characteristics of the QDC630 LV switchboard are:
great flexibility of use;
ability to withstand severe mechanical and environmental stresses;
high degree of safety, considering the electrical risk environment and the personnel to whom it is intended.
* ASC: Construction site Assembled Series.

Datasheet
Standards, certifications and safety
QDC630 is designed and tested to comply with European and International Standards for Low Voltage Switchgears (IEC/CEI).
Constructive features of QDC630 ASC switchboard
QDC630 has a structure made of folded metal sheet, covered with industrial painting suitable for outdoor or indoor installation; the structure has a roof for rain protection, a support, a blind external access door and an internal door.
Service and environmental condition
The installation foresees for environmental conditions max 45 °C and min -5 °C and a standard degree of protection IP55 with an IP20 with open doors. Other operating conditions and other degrees of protection can be evaluated on request.
Modularity and customization
– QDC630 has mechanical and electrical characteristics compliant with regulations and in any case offers the possibility of using equipment defined on specific customer requests.
– On request, it is possible to provide special interlocks and releases to avoid the simultaneous use of utilities.
– QDC630 can be equipped with a slide and cable reel. These solutions have been designed to make the switchgear mobile and facilitate its movement in the event of construction site activities such as drilling and excavation.
Technical features of switchboards for construction site
| | | |
| --- | --- | --- |
| Rated operational voltage | Ue | 400V-230V |
| Rated current | In | Up to 630A |
| Number of phases | | 3 + 1 |
| Frequency | fn | 50 Hz |
| Auxiliary circuit supply | | 230-24 V a.c. |
There are no Case Studies to show.