Request a quote
INDUSTRIAL AUTOMATION SYSTEMS
CT-PC – Containerized power & control cabins
The containerized power and control cabins are the ideal solution for immediate installation in an industrial automation system.
Request a quote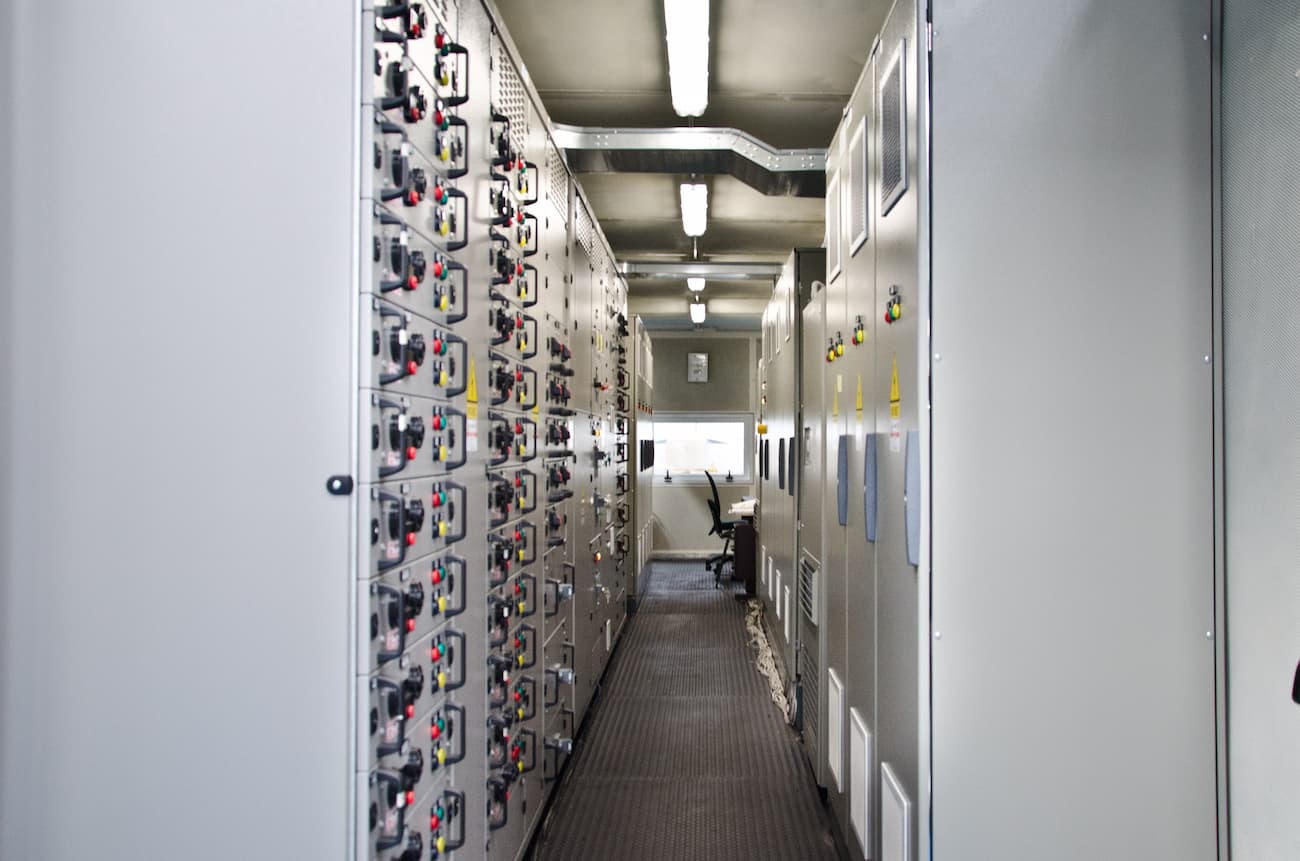 The containerized power and control cabin is suitable for installation in multiple production and industrial plants, both temporary and permanent.
The CT-PC power and control cabin:
contains electrical command and control panels;
is made with a stand-alone structure;
has dimensions in accordance with ISO standards or made to measure;
is made according to customer specifications.
The containerized power and control cabins are complete with all safety equipment and they are designed to provide a turnkey and ready-to-use solution.

Datasheet
Standards, certifications and safety
According to specific needs, the CT-PC cabins can be equipped with:
– permanent CSC certificate for international transport;
– certified for ABS / RINA marine applications;
– special certifications relating to fire resistance and mechanical structure (on request);
– specific certifications of technological equipment.
The panels installed inside comply with the IEC International standards.
Constructive features of CT-PC power and control cabins
The CT-PC cabin in its standard version is made with a self-supporting structure useful for handling and lifting; the roof and walls are insulated with fire-retardant thermal insulation material. The accesses are by means of hatches or doors with 1 or 2 knockers, one of which with a panic bar.
The ventilation of the switchboard compartment is natural but, if necessary, based on the operating and environmental conditions outside, a forced ventilation system or a closed-cycle air conditioning system could be installed inside the cabin.
Electrical features of containerized power and control CT-PC
The CT-PC power and control cabin can usually contain:
– control panels for electric and pneumatic motors and actuators;
– the PLC control panel (Programmable Logic Controller) for interfacing with the electrical and electro-instrumental users constituting the industrial plant;
– the HMI operator interface consisting of a graphic operator Panel.
The standard equipment and accessories are those required by the IEC standards for low voltage switchboards.
Modularity and customization
– The modularity allows to carry out modifications or extensions even if the substation is already in use.
– All electrical and electro-instrumental equipment are already interconnected and tested in the factory, ready for use.
– Customization of dimensions, internal layout and required accessories, including air conditioning and fire prevention system.
– The CT-PC power and control cabin is adaptable to local electrical regulations according to customer specifications.
Technical features of containerized power and control cabins
Approximate dimensions of cabin on the basis of transformer power rate
Other dimensions available on request
Container
(feet)
Length
(mm)
Height
(mm)
Width
(mm)
10
2990
2635
2435
15
4590
2635
2435
20
6055
2635
2435
25
7500
2635
2435
30
9125
2635
2435
40
12190
2635
2435
Service and environmental conditions
| | | |
| --- | --- | --- |
| External temperature (min/max) | °C | -20 ÷ 50 |
| Irradiation | w/mq | 500 |
| Maximum wind speed | Km/h | 140 |
| Maximum snow load on the horizontal projection at 1000 m | Kg/mq | 220 |
| Severe seismic activity | | AF 5 |
| External Protection class | IP | 549 |
There are no Case Studies to show.