Request a quote
POWER DISTRIBUTION
JBMT – Medium voltage junction box 7,2/12/24/36KV
The "JBMT" medium voltage junction boxes allow you to make junctions or shunts of medium voltage cables.
Request a quote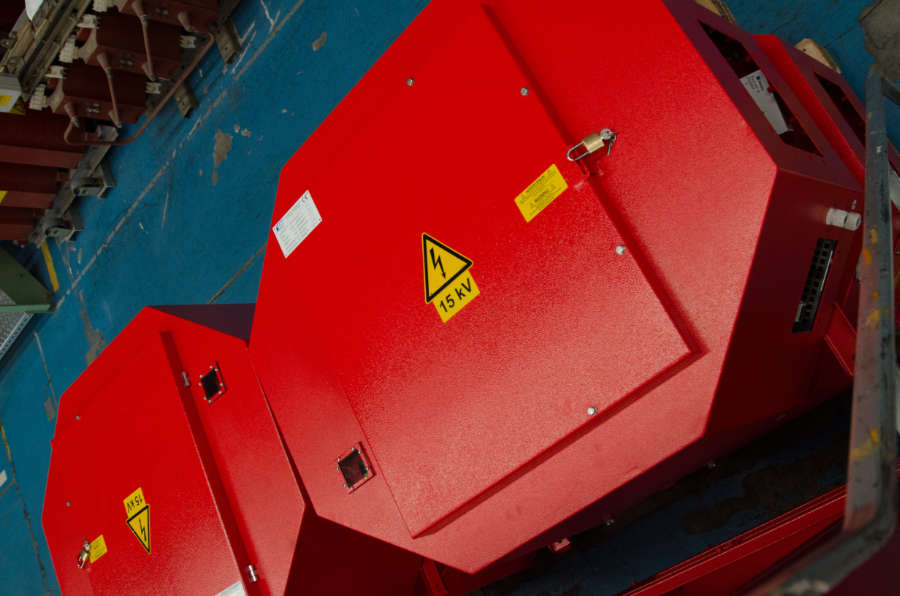 Medium voltage junction boxes are frequently used when inside a tunnel or an industrial plant it is necessary to transport power supply for long stretches via medium voltage cables.
Cear manufactures medium voltage junction boxes with nominal voltages from 7.2 kV to 36 kV, which are designed for:
outdoor or tunnel installations;
protection of live parts from direct contacts;
avoid direct contact with live parts;
immediate and ready-to-use installation.
The junction box is designed to withstand severe mechanical conditions of use and can provide two or more connections to be made using a muffle or special cable glands.

Datasheet
Standards, safety and certifications
JBMT junction boxes comply with International IEC 62271-200 and European CEI 17-6 standards; CEI EN 62271-200.
Constructive features of medium voltage junction boxes
The JBMT junction boxes are made in their standard version in press-folded steel sheet suitably edged and reinforced with a thickness and paint suitable to withstand strong stresses and bad weather. All the parts in ferrous material of the components, the bolts and the small accessories are in stainless steel. On request, versions in stainless steel can be made.
Service and Environmental condition
The installation of the junction boxes foresees outdoor environmental conditions max 45 ° C and min -20 ° C and a standard degree of protection IP55 that can reach up to IP66. Other operating conditions and other degrees of protection can be evaluated on request.
Modularity and customization
– JBMT can be customized based on the number of incoming and outgoing cables, the type of cable gland or MCT most suitable for the use and the type of accessibility required.
– Medium voltage junction boxes can be equipped with an auxiliary box to house the optical fiber.
– On request, JBMT can be equipped with capacitive shunts and anti-condensation heater.
Technical features of MV junction boxes
7,2 kV
3AC
12KV
3AC
24 KV
3AC
36 KV
3AC
Rated voltage
Ur
7,2 kV
12 kV
24 kV
36 kV
Withstand voltage at 50 Hz (1 min)
Ub
20 kV
28 kV
50 kV
70 kV
Rated impulse voltage
U imp
60 kV
75 kV
125 kV
145 kV
Rated frequency
fn
50-60 Hz
50-60 Hz
50-60 Hz
50-60 Hz
Main busbar/cables rated current
Ir
630 A
630 A
630 A
630 A
Short-circuit current
Ik
25kA x 1''
25kA x 1''
25kA x 1''
25kA x 1''
There are no Case Studies to show.