Request a quote
ATEX ZONES
TVR Pressurized and ventilated containerized substations
The TVR pressurized and ventilated containerized substation is suitable for installation in areas with danger of explosion and it's designed to contain electro-instrumental materials, electrical panels, transformers, inverters, motors etc.
Request a quote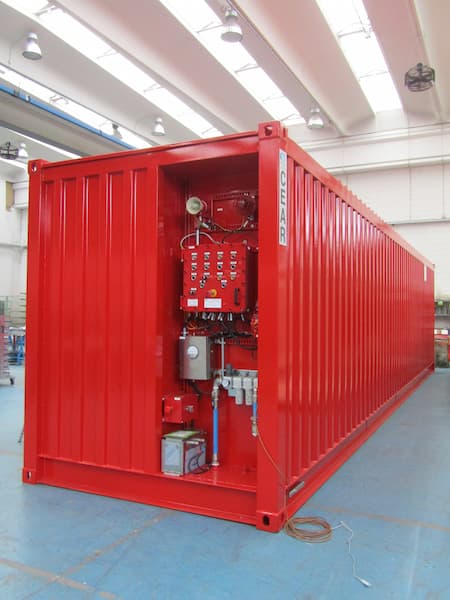 The protection method is based on the principle of maintaining an overpressure inside the volume to be protected with respect to the surrounding atmosphere (protection mode "p" and "v2"), suitable for installation in mines and tunnels with possible presence of grisù gas, classified Group I Category M2 or for surface in a classified Group II 2GD area.
The cabin is equipped with the PCS-Ex p SIL2 pressurization control system, necessary to maintain the internal overpressure.

Datasheet
Standards, certifications and safety
The TVR substations are designed in compliance with the International IEC and European standards EN 60079-0, EN-60079-1, EN-60079-2, EN 60079-7, EN 60079-11, EN 60079-31, EN 50381, as well as ATEX 2014/34 / EU directive.
Constructive features of pressurized and ventilated substations
The pressurized and ventilated containerized substation can be done according to dimensional standards ranging from 10 to 40 ISO standard feet (also high cube), or out of shape with a maximum surface area of 76m3.
The metal structure is stand-alone and sized to ensure maximum rigidity and non-deformability, especially in handling operations and transport.

Electrical features of TVR containerized substations
The TVR pressurized and ventilated substation can be equipped with a resin, oil or air power transformer.
The modular units of the M.T. can have air / SF6 gas insulation and can be designed to create different configurations. The Low Voltage or automation panels are made according to customer specifications in modular and customizable units.
Modularity and customization
All electrical power equipment and auxiliaries are already interconnected and tested in the factory, ready for use.
Dimensions, internal layout and required accessories are customizable;
Accessories are equipped with battery group for autonomous power supply of the pressurization logic, equipped with battery switch,
HVAC system and gas detection sensors;
The method of protection and pressure ventilation changes according to the type of installation, whether in the mine (TVR-vM2) or on the surface (TVR-v2).
Technical features of TVR substations
| | |
| --- | --- |
| Type of installation | tunnel and surface |
| Pressurization Total nominal Volume | From 15 to 76m3 |
| Minimum and maximum overpressure in service | From 0,5mbar up to 10mbar |
| Compartment number | Starting from 2 |
| Maximum ambient temperature | + 55°C |
| Minimum ambient temperature | – 20°C |
| External protection class | IP 55 |
| Altitude | 1000m s.l.m. |
| Relative humidity | 0÷90% |
| Painting | RAL 3020 (other shades on request) |
There are no Case Studies to show.