Request a quote
POWER DISTRIBUTION
CTE – Containerized transformer and distribution substation
The CTE containerized transformer and distribution substation allows immediate connection to the electricity grid, without the need for permanent installations.
Request a quote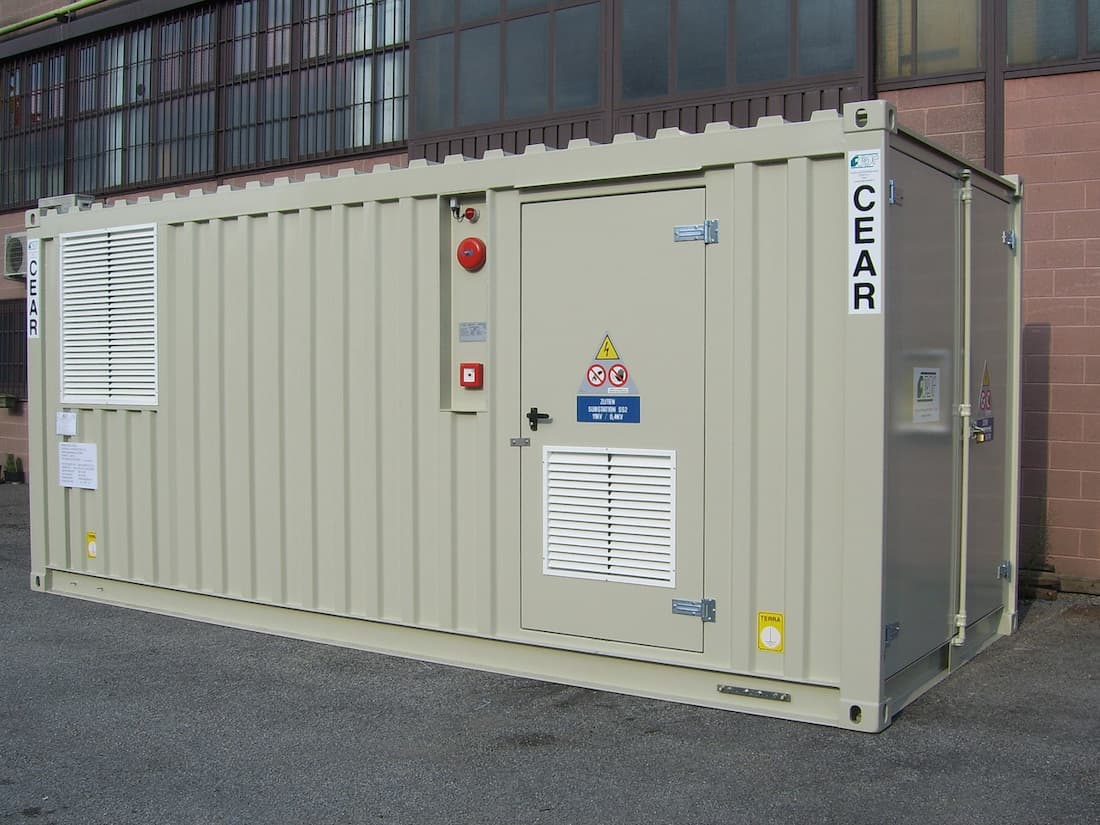 The CTE substations are the result of Cear's many years of experience and guarantee the same electrical performance and solidity as the prefabricated cabins.
The containerized substations are characterized by being:
easy to handle and transport;
ready for use;
totally customizable and equipped according to customer's specific.
The CTE substations are a versatile product, which can be reused and adapted after some time, according to the customer's needs and current regulations.
The transformer substations CTE, as per the most recent regulations, can also be designed with internal arc withstand.

Datasheet
Standards, Certifications and Safety
According to specific needs, the CTE substations can be equipped with:
– permanent CSC certificate for international transport
– certified for ABS / RINA marine applications
– internal arc certified up to 20kA / 1sec.
The panels installed inside comply with the IEC International standards.
Constructive features of CTE substations
The CTE substation, in its standard version, is made with a self-supporting structure useful for handling and lifting.
The roof and walls are insulated with fire retardant thermal insulation material. The accesses are by means of doors with safety locks for the transformer compartment while for the switchgear compartment with panic bar.
The ventilation of the switchboard compartment is natural while forced ventilation is provided for the transformer area.
Electrical features of CTE transformer and distribution substations
The CTE transformer and distribution substation can be equipped with a cast resin power transformer or can have oil or air insulation with a power ranging from 100kVA to 4500kVA.
The modular units of the MV switchgears can have air / SF6 gas insulation and can be designed to create different configurations.
The low voltage distribution panel is customizable, with a modular construction, it is divided into metal compartments and safety compartments with a segregation that can reach up to 4b form. The standard equipment and accessories are those required by the IEC standards.
Modularity and customization
– The modularity allows to carry out modifications or extensions even if the CTE substation is already in use.
– All electrical power equipment and auxiliaries are already interconnected and tested in the factory, ready for use.
– Possibility of refurbishing second-hand containerized substations, carrying out the revision of the electrical equipment, evaluating the replacement and relative adaptation to current regulations;
– Customization of dimensions, internal layout and required accessories, including air conditioning and fire prevention system.
– Adaptability to local electrical regulations according to customer specifications.
Technical features of CTE transformer and distribution substations
STANDARD DIMENSIONS (ISO) – Other dimensions available on request
Container
(feet)
Length
(mm)
Height
(mm)
Width
(mm)
10
2990
2635
2435
15
4590
2635
2435
20
6055
2635
2435
20HC*
6055
2896
2435
25
7500
2635
2435
30
9125
2635
2435
40
12190
2635
2435
40HC*
12190
2896
2435
*HC=HIGH CUBE
Service and environmental conditions
| | | |
| --- | --- | --- |
| External temperature (min/max) | °C | -20 ÷ 50 |
| Irradiation | w/mq | 500 |
| Maximum wind speed | Km/h | 140 |
| Maximum snow load on the horizontal projection at 1000 m | Kg/mq | 220 |
| Severe seismic activity | | AF 5 |
| External Protection class | IP | 54 |
There are no Case Studies to show.